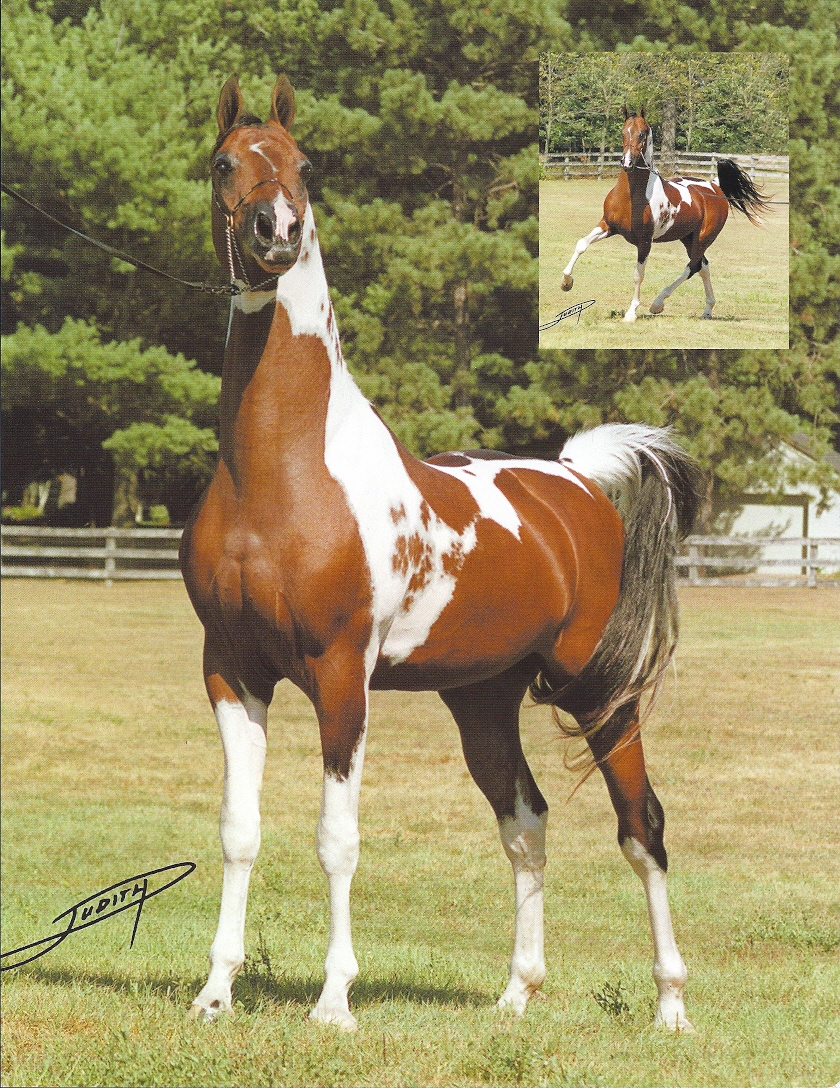 X-Treme.............16.2h of suberb conformation and unsurpassed beauty all in one package!
Twice "Unanimous World Champion!!!"
"Forever in our hearts/Unanimous World Halter Champion: TF X-Treme"
"Homozygous Pinto!"
"TF X-TREME"
Sire: The Color of Fame
Dam: Norsk's Glitter Queen ( double (black) Status Symbol daughter!)
His name says it all. More than you expect in all aspects! Superbly beautiful head with big popping eyes. Outstanding legs and feet. Upright carriage with a big hooky neck and high, high natural tail carriage often missing in the Saddlebred. He has it all along with great totally natural motion!

*Homozygous pinto: All his foals will be pinto!
*Double registered Saddlebred and Pinto.
*Foals from Saddlebred mares can be double registered to show in two breed shows.
*Foals from Arabian mares can be "triple" registered for more opportunities.
*IAHA Sweepstakes Nominated for Arabian mares.
*National Show Horse Nominated Sire.
*Measures over 16.2h.
*Super straight, very correct legs!
*Upright carriage!
*Great presence, yet a fabulous disposition!
*Gorgeous typy ears; short stunningly beautiful head!
*Well set on neck on a body with great substance and perfect topline!
*Short coupled, laid back shoulder, long hip, level topline!
*High NATURAL lofty tail carriage!!!
*X-Treme was awarded the Register of Merit in halter (It takes 36 point to achieve this; X-TREME HAS 116 POINTS)!
*PRODUCING BLACK AND WHITE ON NOW SEVERAL FOALS THROUGH HIS DAM (who is double Status Symbol....Status Symbol was black and the top producer of champions in the Saddlebred breed two years in a row!!!)











STUD FEE: NO LONGER AVAILABLE AT STUD. Some offspring may be available in the future via frozen semen. Frozen straws are not for sale due to a very limited amount at this time.




****


"X-TREME!"
"X-TREME!"