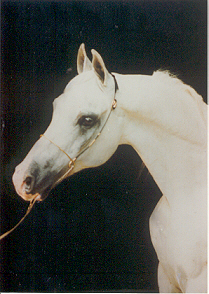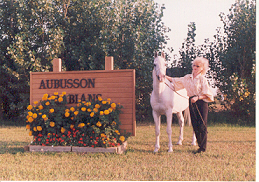 Both of the above photos of National Champion Hi-Fashion Imperial+++ were taken by us at our place after his rescue. Many more can be seen in old issues of The Arabian Horse World....search the issues around l976. He was 25 years of age at the time these photos were taken.
Hi Fashion Imperial+++
"We found this National Champion at a killer sale!"
Certainly one of our favorite memories and likely the most touching, was rescuing the beautiful National Champion stallion, Hi Fashion Imperial+++, from a killer sale! Sometimes luck, sometimes it is perhaps the intervention of God, one finds themselves at the right place at the right time. We had arrived at the horse sale late in the afternoon looking for a pony mare for our "teaser" pony stallion. Killer horses always sell in the morning and we never attend that sad event as often they are injured or very old and one can't do much about most of it. As we walked the "cat walk" late that warm March afternoon trying to spot a pony mare or two for our "teaser pony stallion", we saw the most unreal sight off in the distance. There was a regal white image with neck arched and tail held high as he protected himself in a very small muddy pen with between 20 to 30 horses, kicking and squealing. About that time, a close friend of ours came running up and said she had heard that a local outfit which had moved horses in from California (some 250 of them) to a local ranch had run a number of them through the killer sale that morning. We ran home quickly to look in some of the old Arabian Horse magazines as we thought the white horse we had seen might be the stallion, Hi Fashion Imperial+++, as we were aware of a number of stallions and who they were that had arrived at that Ranch. The books confirmed that it was highly likely that the horse we had spotted was the National Champion Ferzon son, now age 24, that had once been syndicated and managed out in CA. Literally dozens of pictures confirmed that we were right! We must have exceeded the speed limit by quite a bit...but we had a mission. As we arrived back at the sales barn, the killer horses were already being loaded into semi trailers. We were so afraid we had missed the stallion. We ran in a panic to the office and they agreed to page the killer buyer that had purchased the white stallion. He actually appeared and with quick negotiations, we offered him $100 more than he had paid for the horse. For $320 the man cut out the stallion and handed him over to us covered in mud. When my husband approached him, the stallion buried his face in his chest and nickered to him as if to say..".take me out of here, I don't belong!" The tears still flow when I remember that picture. We took him home and bathed his ragged coat and bedded him down in a warm, safe stall. He was so starved and thin we could see every bone. Then, we were unsure what to do with him or how to find his owner. We knew he has once stood at stud at Marathon Farms, but, of course, none of those phone numbers worked after nearly 15 years. Finally after talking with The Arabian Horse Registry we were able to contact his actual owner who was then retired in Florida. The owner turned out to be Sam Groome, a former football player for the Green Bay Packers, who also had owned the US National Res. Champion stallion, Zarr Hussain. It was an interesting conversation and at first he thought I was some crazy lady who wanted money or who knows what. He truly did not believe us as he had been told the horse was dead. I gave him enough information about the outfit that had brought the horses in from California that finally he asked me to shave down the horse's markings and send photos to him. We did that and, needless to say, when he got those photos he did confirm that this was indeed his HiFashion Imperial+++ who had been syndicated in CA for $750,000! To say that he was mad was an understatement! I offered to send the stallion to him but after much consideration, he called me back. He asked if we would be interested in caring for the stallion as he was afraid if he boarded him somewhere, he might again be mistreated. He finally said that since we had cared enough to rescue the stallion, he was likely in the right hands and he would agree to sign any registration forms if we would like to use him for breeding in trade for his care. The kindest disposition we have ever seen in a stallion, this wonderful creature lived with us until age 28 when he quietly went to meet his maker having left behind an addtional legacy of 24 purebred and partbred foals. In his last moments he pawed at his stall door and asked to go out one last time. We turned him loose without a halter. He made the rounds to all the mares, talking softly to each, then returned to his stall and laid down in the soft bedding and quietly breathed his last. We like to think he now is the lead horse for Elijah's chariot which would be a fitting life in eternity for such a magnificent horse.